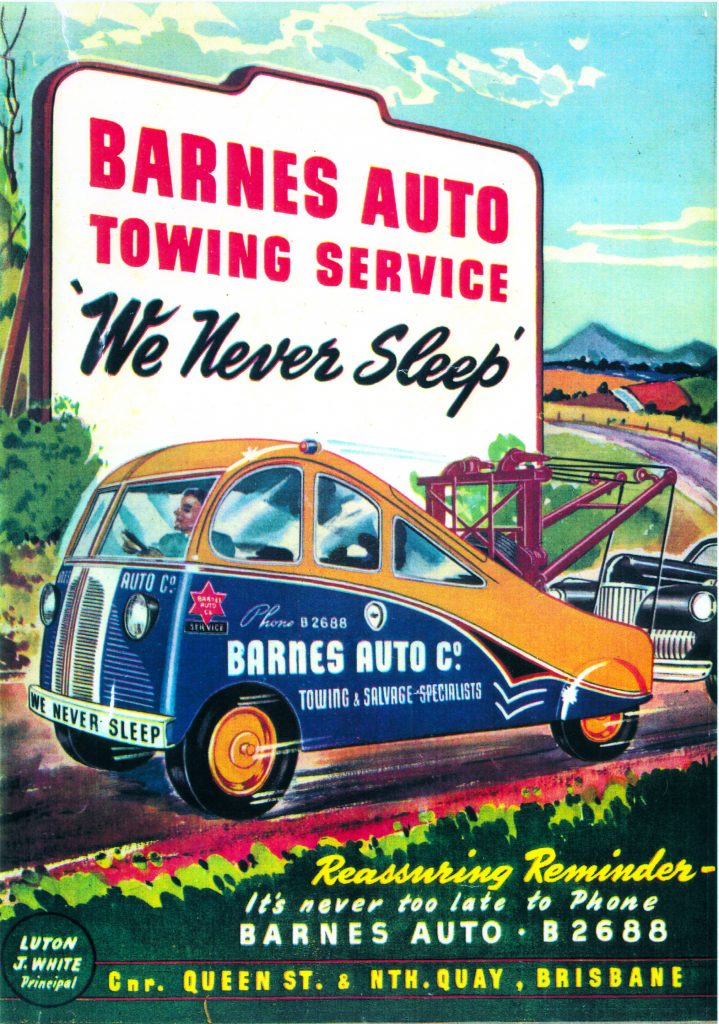 Our Mission
Established back in 1900, Barnes Auto Co has played an integral part in the history of the heavy recovery industry in Australia and is synonymous with Queensland's transport heritage.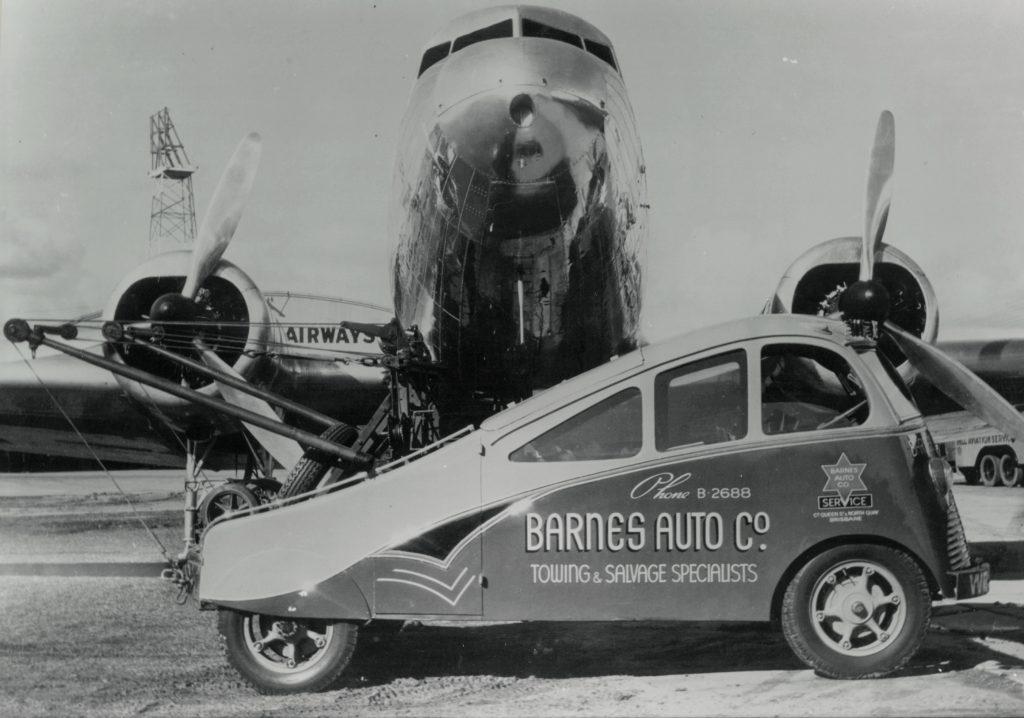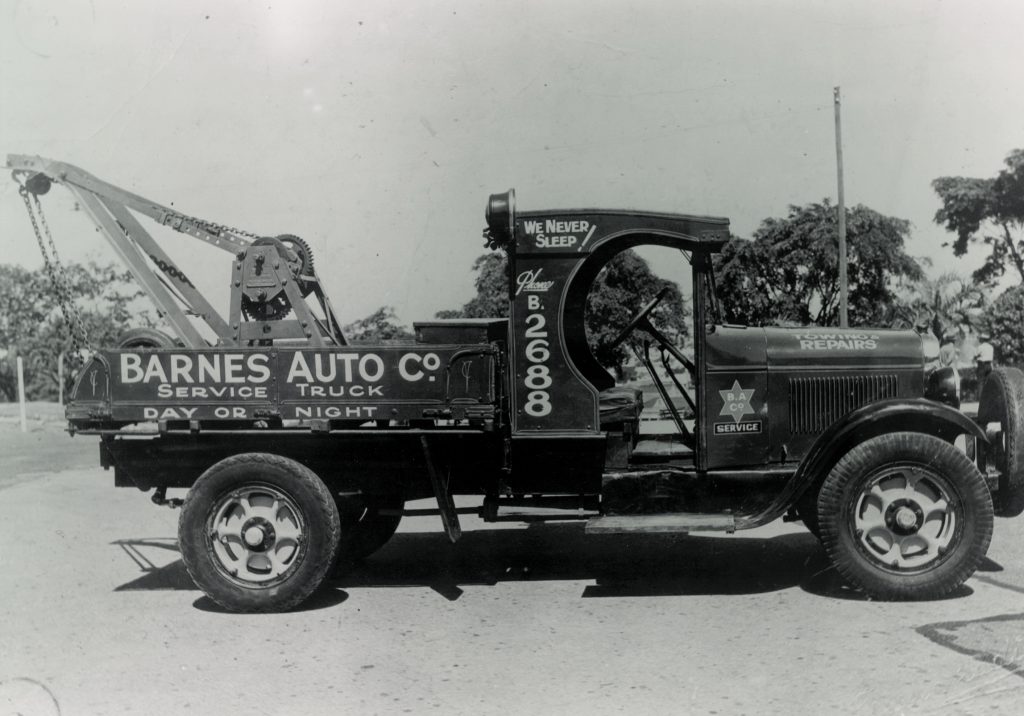 Our history
Founded circa 1900 by John Barnes, Barnes Auto Co has played a major role in the Transport Heritage History of Queensland over the years. Originally operating an engineering workshop on Breakfast Creek Road in Newstead, John started out selling petrol and oils and doing minor vehicle repairs.
He then opened Barnes Automobile Company near the corner of Creek and Adelaide Street - the site of Brisbane's first petrol bowser, opposite the Gresham Hotel.
He also had the agency for Sunbeam and Delage cars and was later asked to build a tramway to collect milk and cream from large dairy farms in the Beaudesert area. Although this project failed, he did invent the Degaussing System, which repelled magnetic mines from ships at sea, as well as a quick-fire gun and a successful beer keg tap for Castlemaine Brewery.
Despite these successes however, John Barnes was not an astute businessman and later returned to England, where he passed away. His legacy was Barnes Auto Co, which had survived under six different owners up until November 13, 1930.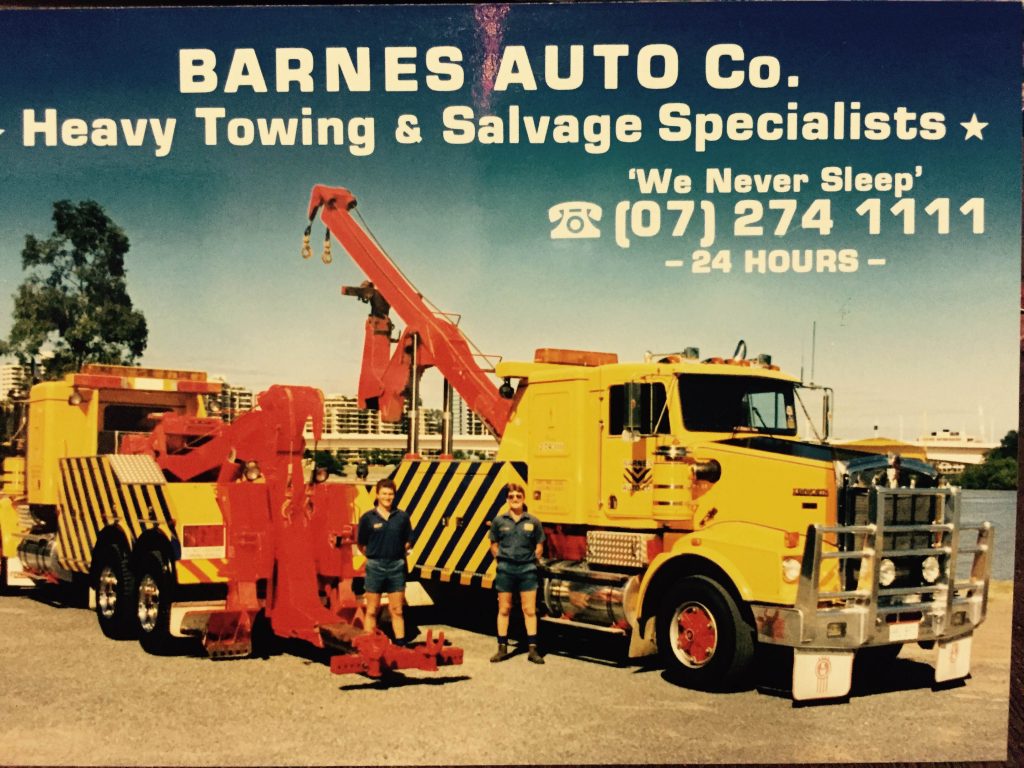 WE TAKE CARE OF YOU, WHEREVER YOU MAY BE!
Australia wide vehicle recovery & salvage on special request. Contact us for more details.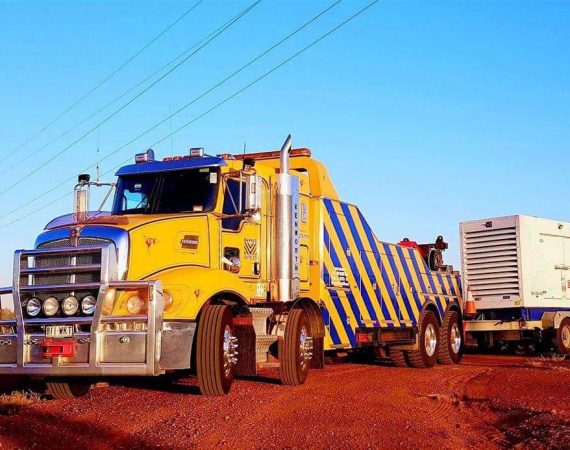 New Lease Of Life
In 1930, Luton White heard that Barnes Auto Co was going into liquidation, so he purchased the business - in a 1992 interview, White recalls the date of November 13, 1930 (Mr Luton White 1904-2000). White's father owned Whites Motor & Engineering Works, Stanley Street South Brisbane, manufacturing marine engines and other items, and had Whites Hill Reserve named after him.
The then 29-year-old Luton White had comprehensive experience in engineering, motor vehicle repairs and sales. He had previously worked for Smellie & Co, Peels and British Australian Motor, amongst others. White subsequently expanded the business onto Adelaide Street, operating it primarily as a parking garage at the foot of the old Victoria Bridge.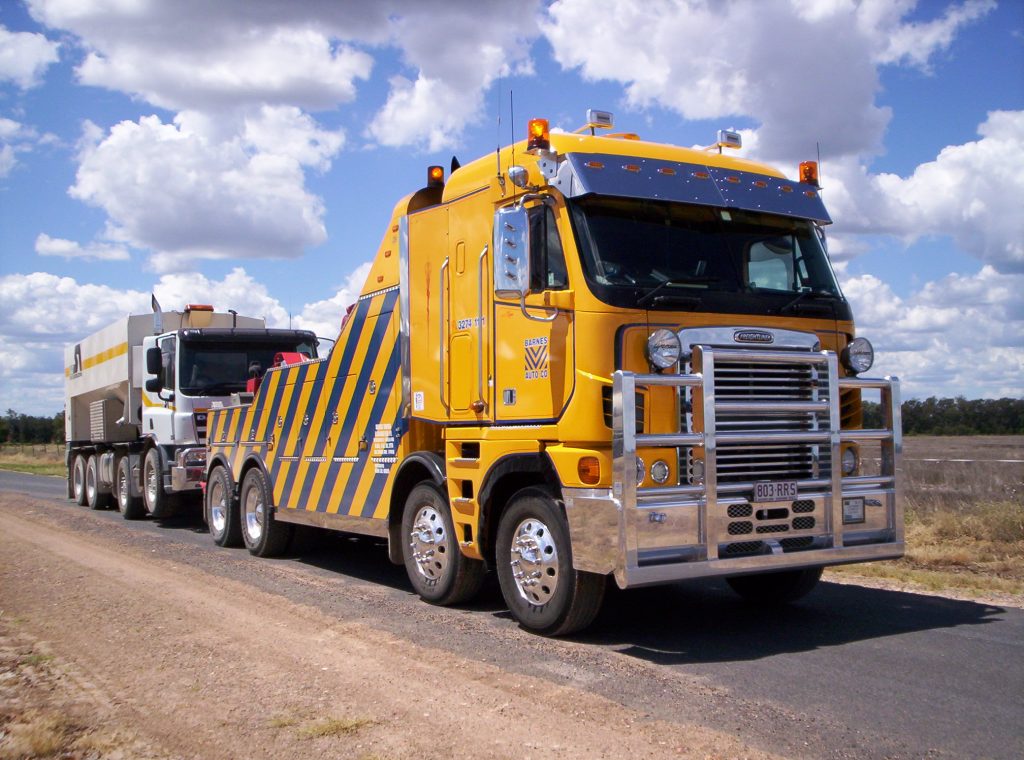 New Lease Of Life
Visitors daunted by the site of the big city would drive over the bridge and seek sanctuary at Barnes, who would in turn offer them full driveway 'service'. Barnes would park the car, refueling, greasing and doing repairs, as well as loading customers' shopping by the time they were ready to head home.
With blue and gold as the family colours - taken from the Dutch ships on the nearby Brisbane River – White adopted stripes after WW2, as he was tired of camouflage. He also knew his vehicles would be his best advertisement. Hire cars - not owned but organised by Barnes - operated from the building, with bookings taken by Miss Mayo, Miss Lindsay or Paula Moore.
Refreshments were also sold at the Speakeasy Buffet, which became a city landmark and was leased and operated for a time by Percy Barron. Employing up to 25 staff on a rotating shift, a core of these were lifetime employees. John Savage was one such, who spent 48 and a half years on night shift from 9:00pm – 8:00am. Barnes also had the first battery charger which ran directly off the DC current of the city trams and the first brake testing machine - Rawson Brand - amongst many other things.
Barnes Auto Co
In the early days, Barnes Auto Co depended on the business generated from car hire companies, which ultimately helped to advertise their services as they travelled throughout the region. The company was later purchased by Bishop & O'Sullivan (date unknown), who introduced what became known as the Barnes Auto Co motto, "We never sleep".
Bishop and his previous partner had operated hire cars at all hours so they could meet trains that were frequently late. Their dedication inspired the motto and Bishop retained it even after the partnership dissolved. The motto also had some relevance to the Adelaide St building, which had no doors and remained open 24 hours a day.
Barnes Auto Co then passed to Fox and Fillot, who later sold it to Tipper & Glanville. Later relocated to leased premises at Queen Street and North Quay, a site owned by the Church of England. Tipper & Glanville then purchased what was probably Australia's first towing truck - a Crosley tow truck, that had been constructed for Eagers.
Renovations And Moving On
Parking at Barnes Auto Co went to a mezzanine floor accessed by a self-activating turntable which rotated the car in the right direction. Later, this level became a mechanical and motor body repair shop with 11 mechanics, fuel sales amongst the highest in Queensland and up to seven tow trucks in the towing and recovery fleet.
In 1946, parking was expanded to another Adelaide Street site near the corner of Wharf. In 1956, the Church asked White to purchase the premises for £65,000, which he declined, so the business was on the move. Prudential Insurance then moved onto the landmark site.
The towing and impound depot went to Boundary Road, Spring Hill. The parking garage and service station went to the Adelaide Street and Wharf Street site, then known as the Astra Auto Co. The business moved in 1977 to Ipswich Road, Rocklea, to purpose-built premises with tow trucks, cranes and travel towers. In 1984-85, Barnes Auto Co was moved to Melbourne Street, West End and later (under new ownership) near the corner of Montague and Mollison Streets.
In 1987, it was back to Rocklea after the White family sold the business to Mr S Wane and Mr J Dent. Barnes Auto Co now also have depots in Toowoomba, Gold Coast, Virginia and Burpengary. With a 24 hour head dispatch and administration office located in South Brisbane.

After another passing of guard in 2018, Barnes continues with an excellent team and has a 24 hour head dispatch and administration office located in South Brisbane.