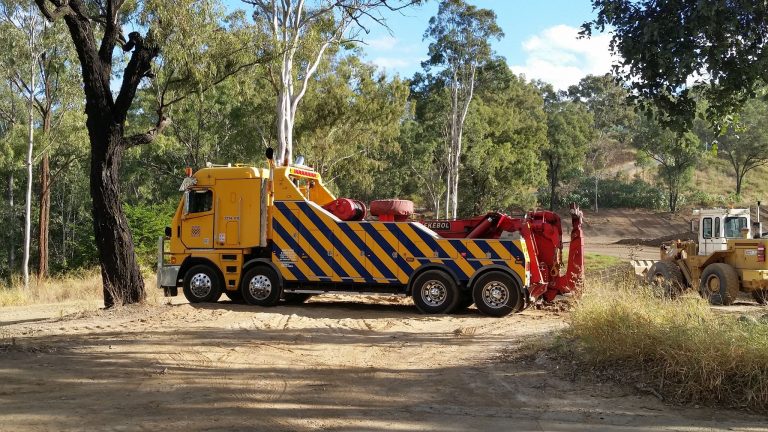 Everything You Need To Know About Towing
Most people probably don't often think about tow trucks until they need one. But after a collision on the highway or equipment failure on a job site, careful drivers will want to understand what tow trucks can offer.

We've compiled the most basic information about the how to call a tow truck to fix your vehicle or transport your heavy load. Keep these ideas in mind the next time you need a tow.
Types of Tow Trucks
Different loads require different vehicle specifications. When your truck breaks down on the highway, you can call a smaller tow truck to lift your truck out of the way. But when you need to tow multiple tonnes, you'll want a powerful tow truck that can handle the load. Read the descriptions below to find the tow truck that fits your needs.

Light Duty
These lighter trucks respond to calls and pick up passenger vehicles. Most light-duty tow trucks use dolly towing to lift the two front wheels off the ground and tow the truck on its back wheels until safely off the road. For a minor truck accident or tow to a mechanic shop, a light duty truck should suffice.

Medium Duty
You might prefer larger, medium-duty trucks if you transport moving vans and commercial vehicles. Medium-duty trucks handle loads from about 4,500 kg to 11,000 kg and feature a flatbed instead of a two-wheeled dolly. After angling the bed, the truck will raise your vehicle's four wheels onto the bed and then carry it atop the bed to its destination.
Heavy Duty
Because of their bigger frames, steel reinforcements and high-powered engines, heavy-duty towing trucks can carry up to 23,000kg of equipment. Heavy-duty tow trucks can handle the burden of tractors, trailers, other trucks and even tour buses with ease. Construction sites and industries also use heavy-duty tow trucks to load buildings and construction vehicles to their worksites. If you suspect that your load weighs close to 23,000 kg, you'll want a heavy-duty truck for extra strength and protection. Heavy-duty trucks also offer innovative technologies to help recover vehicles. Boom and winch systems use levers, to lift your vehicle or heavy equipment out of a ditch. Ask your tow trucking company how to best save your vehicle if you find yourself in this situation.
Tow Truck Reservations
Before you request a tow truck, ask the company about its certifications. Once you know the type of truck you need for your removal or transportation project, you can prepare to call the dispatcher. To request a tow truck for your vehicle, mention:

Your exact location
Vehicle's model and registration number
Your truck's status - is it damaged? Trapped? Stuck in an embankment?
Road conditions
The dispatcher will send a truck to match your specifications, and give you a general time frame for the truck's arrival.
Rights and Fees of the Towing Industry
After the dispatcher arrives on the scene, he or she will show you a business operating licence. Also, legal regulations obligate the tow truck driver to give you a form titled "Authority to Tow" before he or she removes your vehicle. Read this document carefully before you consent. You have the right to choose where your vehicle will be taken.

Once your truck exits the site and arrives at the destination of your choice, you'll pay the driver in order to reclaim your vehicle. Fees f or towing services may include:

Tow fee
Distance charge (usually determined by kilometre)
Working or delay fee, depending on how long the dispatcher waited at the scene
Extra equipment fee
Vehicle storage fees

Remember these basic facts, and you won't have any trouble getting your truck, construction equipment or commercial vehicle back on the road.